Olalekan Faniran
Thursday, October 30th, 2014. Posted by Owen Lewis.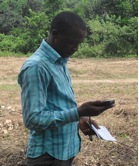 Funded by Tertiary Education Trust Fund (TETFund), Nigeria.
Supervised by Owen Lewis
Research Interests
I am interested in soil arthropods, their patterns of demographic variation, and their interactions with plant litter inputs.
Selected Publications
Ewuim, S.C., Akunne, C.E., Abajue, M.C., Nwankwo, E.N. & Faniran, O.J. (2014). Challenges of e-waste pollution to soil environments in Nigeria. Animal Research International, 11, 1976-1981.
Ewuim, S.C. Akunne C.E. & Faniran, O.J. (2012). The role of insects as allogenic ecosystem engineers in Nigeria. Environtropica, 8, 187-193.